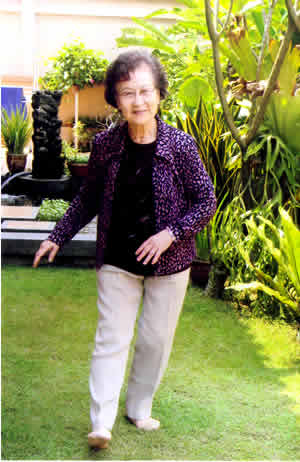 Sun Yun-cai, a master of Guo Lin Qigong, was a teacher in Beijing and is a renowned cancer fighter. In 1980, she was diagnosed with breast cancer which soon spread to her right lung as well as to the right side of her abdominal cavity. Her Western trained physicians discontinued all treatments and considered her condition to be hopeless. She began to learn "New Qigong" from the founder Master Guo Lin. Ms. Sun soon mastered the skills and exercised persistently on a daily basis. After continuing her unremitting efforts for one year, the cancer disappeared completely.
After her experience, Master Sun had great empathy for other cancer patients and began to promote Guo Lin Qigong. She has been teaching for almost 30 years all over China, as well as in Hong Kong, Taiwan, Singapore and Malaysia. After moving to Canada, she continues to promote and teach Guo Lin Qigong in North America, especially in Toronto and Vancouver. She has dedicated her life to helping fellow cancer patients recover through the methods of Master Guo Lin and has more than 30,000 students all over the world.
Master Sun has published various books such as "The Experience of Cancer Fighters" 《抗癌明星之路》, "Non-governmental Cancer Fighting Organizations in China" 《中國民間群體抗癌圖志》, "Guo Lin Qigong – A Study Manual" 《郭林氣功學功手册》, "A New Route to Recovery for Cancer Patients"《癌症病友康復新路》, "Cancer Prevention Exercises"《抗癌健身法》, "Regain the Glory of Life"《再現生命的光彩》.
She also has had the opportunity to describe her own recovery and cancer related works on many newspapers, magazines and Chinese television programs, such as "Fight Cancer Cheerfully"《快樂抗癌》, "Passion for Life" 《熱愛生命》. Master Sun and her programs have all been well received. She has also received many awards in Toronto, including "Joyful Immigrant Ambassador" (移民快樂大使) and "Most Healthy Senior" (十佳健康老人) awards.
Master Sun was Vice Director of the Beijing Guo Lin Qigong Research Centre. Currently she is a consultant of the Guo Lin Qigong Association of Toronto.